Influenza-like-illnesses (ILIs) are highly transmissible, with influenza alone impacting as much as 20% of the population during winter months.1 The size and severity of an ILI season varies significantly year-over-year due to changes in weather, circulating pathogens, and social habits, making it difficult to anticipate and prepare for an upcoming season.
"The [2022-23] season has been unprecedented and unpredictable… 90% of U.S. states reported an earlier-than-usual start to the flu season
The ever-changing nature of ILIs paired with high transmissibility causes significant healthcare, business, and societal disruption.
16% higher average worker absenteeism due to illness or medical need during peak ILI season in the USA2
2.4M influenza hospitalizations estimated in the USA between 2010-20203
41% of ICUs experience "significant stress" during national peak flu activity in the USA4
Widespread out-of-stocks for cold and flu-related medication in 2023 due to higher-than-average ILI season5
In addition to seasonal ILIs, the risk of new highly-disruptive ILIs emerging increases every year due to factors such as urbanization, deforestation, and globalization. In 2021 BlueDot calculated a 275% year-over-year increase in animal spillover influenza events – the same type of event which caused the COVID-19 pandemic.6 This underscores a critical need for the continuous vigilance of disease surveillance and pandemic preparedness.
1 World Health Organization, 2 US Bureau of Labor Statistics,3 Centers for Disease Control and Prevention,4 Critical Care Explorations,5 CBC Canada,6 BlueDot Data
Fight against influenza and COVID-19 with intelligence that saves lives
Organizations rely on BlueDot for the timely and detailed intelligence required to anticipate, assess, and act against ILIs.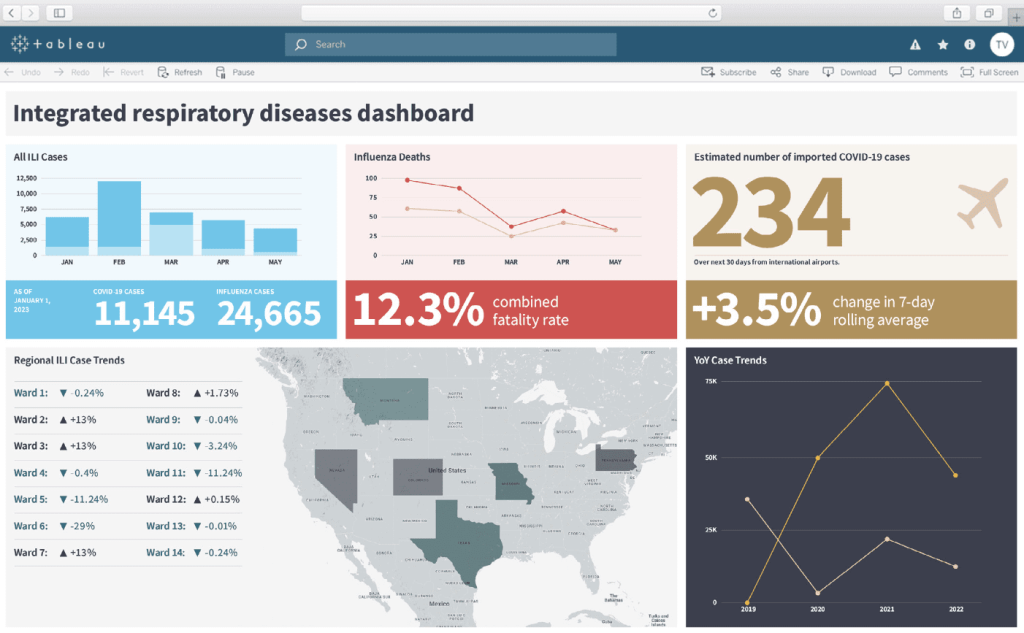 Know first when new disruptive ILI activity emerges. Never be surprised again with the earliest-possible warning of highly disruptive emerging global ILI activity.
Plan for the production or acquisition of countermeasures. Pinpoint who, when, and where illness will strike with advanced warning of influenza season start and drivers of disease burden.
Pivot with the season as new trends emerge. Remain ahead of the curve with rolling activity forecasts and expert-written reports on the trends you cannot miss.
Communicate risks with communities and stakeholders. Inform your campaigns with the most recent, compelling, and actionable data for your specific intended audience.