Most people know the story by now: resistance to vaccination is fuelling a worldwide resurgence of measles, following tremendous progress in reducing the global burden of this highly contagious disease over the past several decades.
This story, however, is too often told in isolation. Our world is more interconnected than ever before – and our health and well-being are more interdependent than at any time in history. What if one infected traveller unknowingly carried measles virus to a country with a weak public health system? What if an infected traveller transported measles virus to a community resistant to vaccination?
With AI-driven infectious disease surveillance curating and organizing more than 10,000 official and media reports per day and integrating global air travel data from more than 4 billion ticket sales per year, BlueDot is continuously analyzing how outbreaks can spread in our interconnected world. This report assesses which countries are most vulnerable to the importation of measles. The report will:
List the top 10 measles outbreaks happening now (July 2019)
List the top 10 countries most vulnerable to the importation of measles virus
Describe how one of the world's largest measles outbreaks found its way to New York State
Lead you to your own quantified risk of importing measles virus, based on your location
Measles at a Glance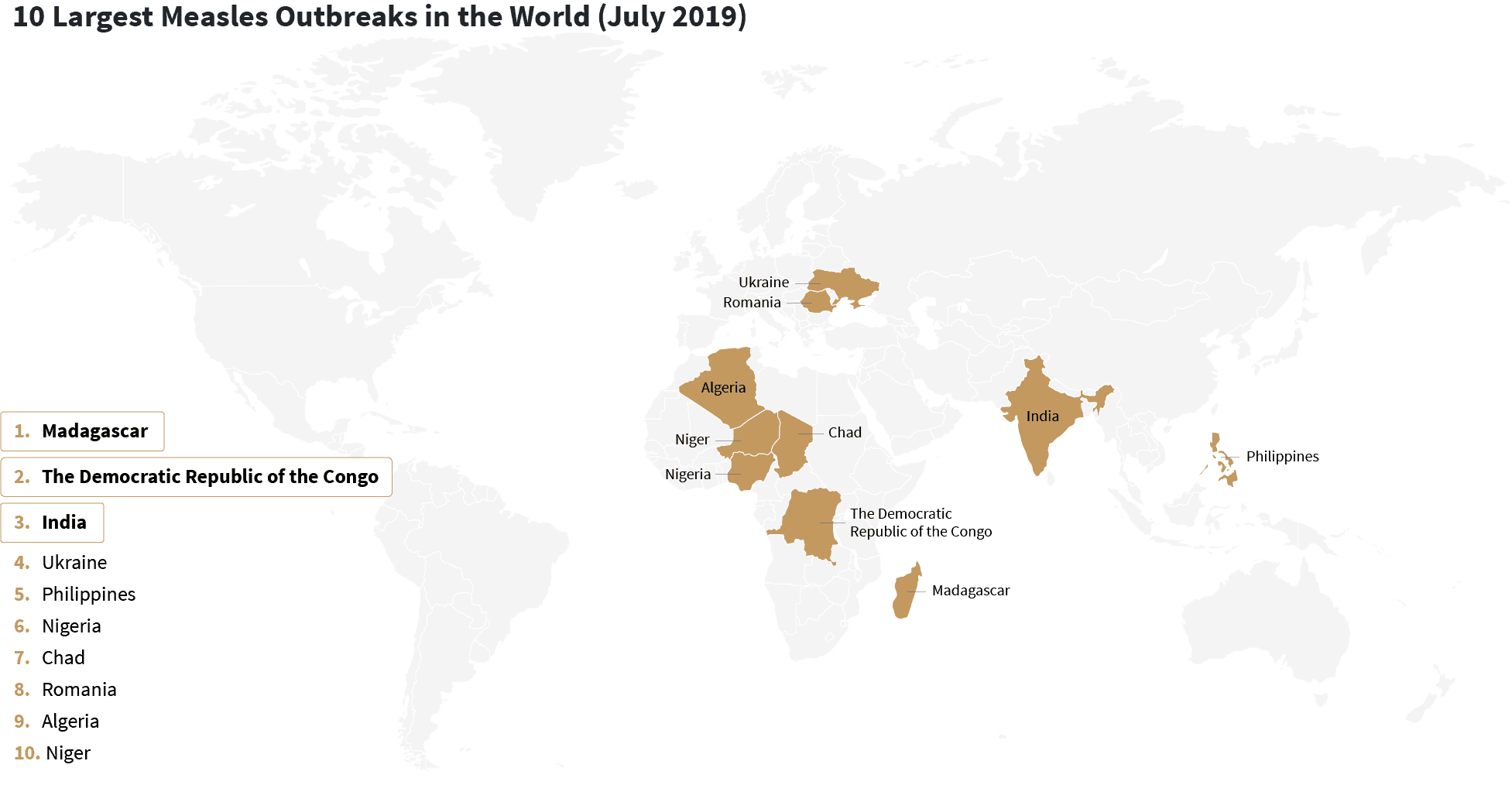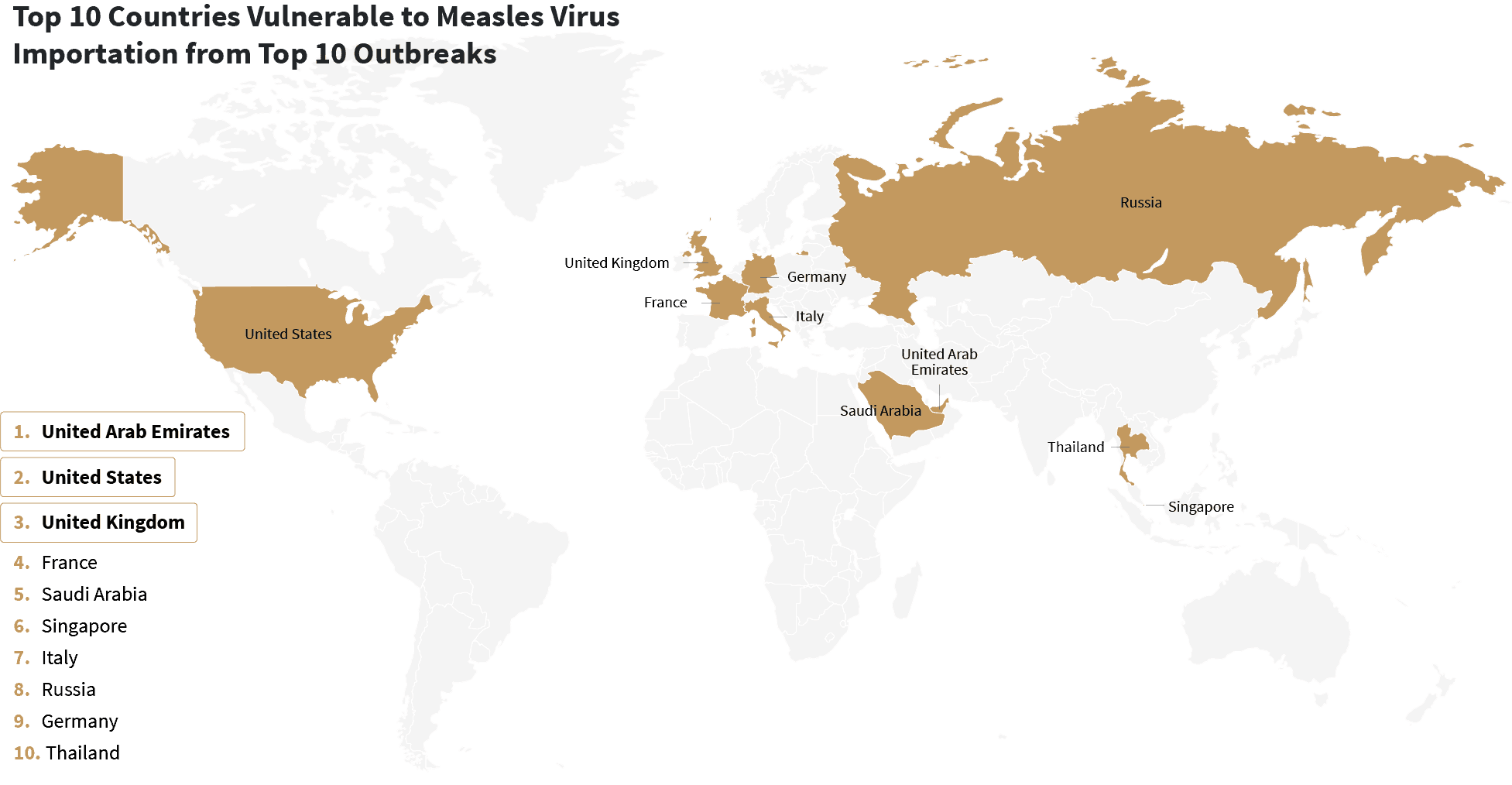 10 Largest Measles Outbreaks in the World
Madagascar
The Democratic Republic of the Congo
India
Ukraine
Philippines
Nigeria
Chad
Romania
Algeria
Niger
Top Countries Vulnerable to Measles Virus Importation from Top 10 Outbreaks
United Arab Emirates
United States
United Kingdom
France
Saudi Arabia
Singapore
Italy
Russia
Germany
Thailand
The Measles Trip around the World: A Travel Timeline
2016: Ukraine ✈️
2017: Israel ✈️
2018-19: New York State
Ukraine
From 2013–2016, Ukraine saw, on average, nearly 1,500 cases of measles per year.
But in 2016, a confluence of factors led to measles vaccination rates in Ukraine plummeting to 42% among infants. And among six-year-old children, just 31% had received the recommended second dose of the MMR vaccine – one of the lowest rates of measles vaccination in the world.
This dramatic decrease in vaccination coverage contributed to a surge in measles cases. As of December 2018, Ukraine reported a more than 1000% increase in cases compared to the previous year.
In an attempt to curb the spread of the outbreak, the World Health Organization and partners within the Ministry of Health of Ukraine established a national measles task force in 2017. The response plan included:
Free vaccination campaigns
Special training for healthcare workers to identify and report measles cases
Increased communication to parents on the importance of full vaccination
As a result, more than twice as many infants were vaccinated against measles in 2017, compared to 2016.
Israel
Every year in September, thousands of people from Israel travel to the Ukrainian city of Uman for the Hasidic pilgrimage, to visit the tomb of Rabbi Nachman of Breslov, founder of the Breslov Hasidic movement.
The surge in travel from Ukraine back to Israel fuelled the importation and subsequent spread of measles virus. From 2017 to 2018, Israel transitioned from 16 reported measles cases to more than 3,000.
While the overall MMR vaccination rate in Israel was approximately 96% to 97% at the time of the outbreak for both doses of the vaccine, a few densely populated communities had much lower rates. Some pockets in Jerusalem, for instance, saw vaccination rates of only 55%. Members from these communities may have been particularly vulnerable to measles exposure because they may also have been more likely to travel to Ukraine for the pilgrimage.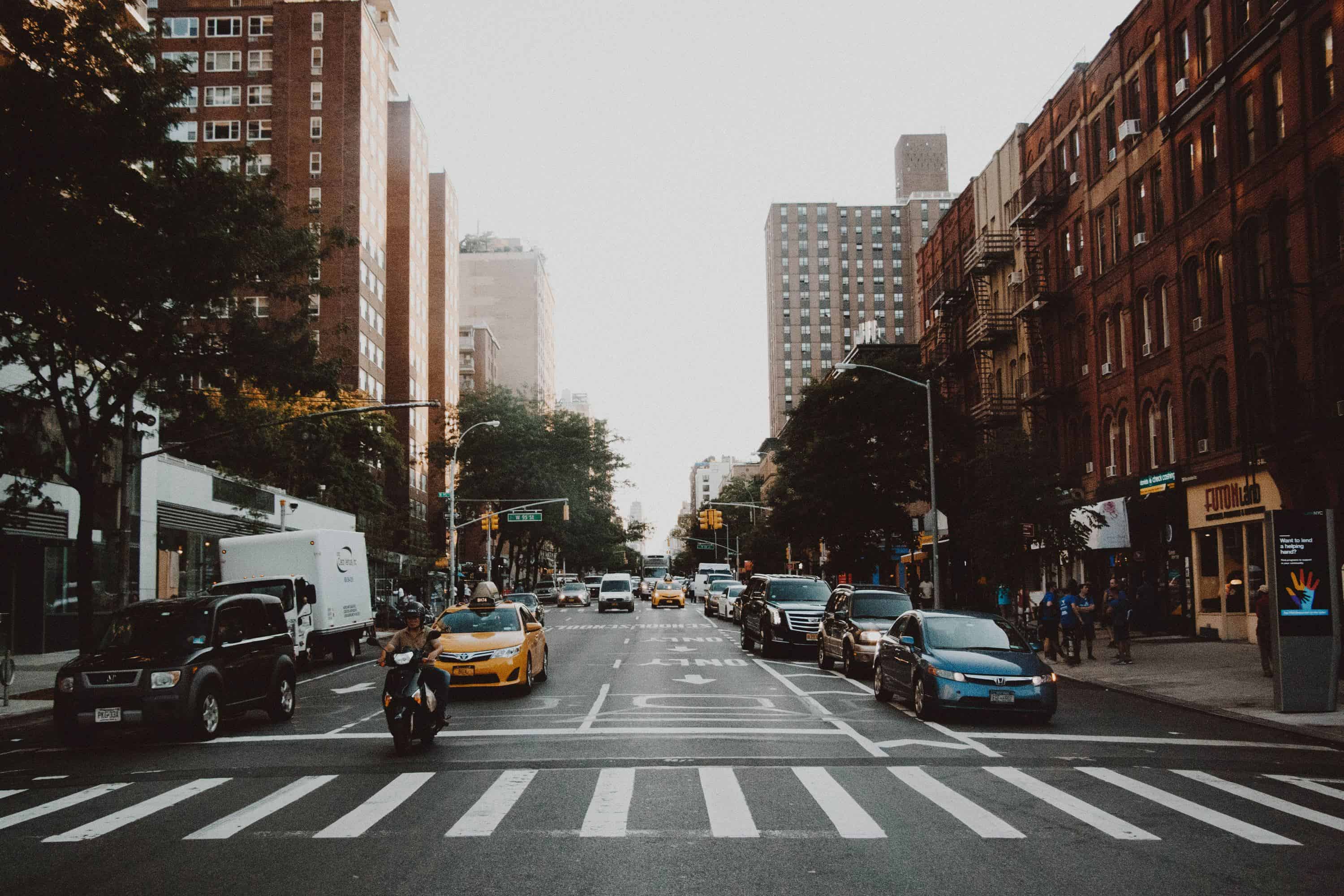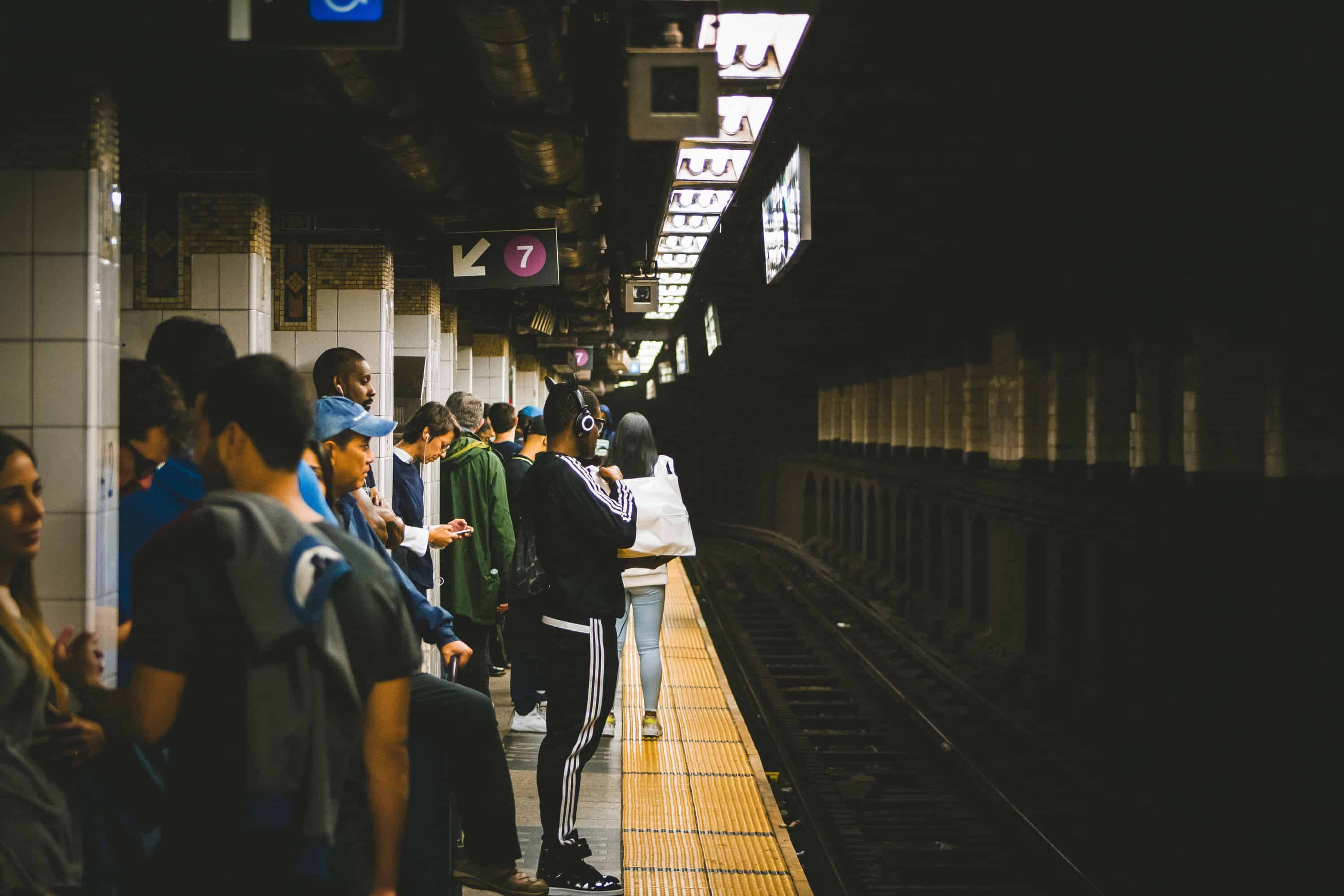 Within only a few months, New York State was facing its most severe measles outbreak in decades.
New York State
In October 2018, a family travelled with a sick child from Israel to New York, specifically to Bensonhurst in Brooklyn. The child was quickly diagnosed with measles.
Within only a few months, New York State was facing its most severe measles outbreak in decades.
The New York State Department of Health launched vaccination campaigns within vulnerable populations, and for people visiting locations with active transmission of measles virus. They also launched education campaigns against vaccination hesitancy, specifically within vulnerable communities.
As a result, thousands of MMR vaccines have been administered since October 1, 2018.
As of July 2019, the measles resurgence persists to varying degrees in Ukraine, Israel, and New York State – and in many countries around the world with limited public health infrastructure.
What is your risk of measles virus importation today?
Find out about your risk for measles and 100+ infectious diseases with BlueDot Insights.
Measles is just one of many infectious diseases that are rapidly transported across vast distances by infected people. The global spread of Zika virus, H1N1, and SARS epidemics were all driven by the worldwide movement of human populations.
Know which infectious disease risks might land in your backyard.
BlueDot Insights tracks and anticipates the global spread of infectious diseases so you don't have to. Find out which risks are greatest to your organization or community.
Spend less time on surveillance.
We're using AI-driven technologies to track 100+ infectious diseases around the world across 60+ languages – so you don't have to.
Be proactive, not reactive.
Think global, act local. Understand what you need to about infectious disease risks in your locations of interest, so you're poised to know when and how to respond to them.
Respond with precision in an emergency.
When time is critical, know you're using the best evidence to make the best decisions.