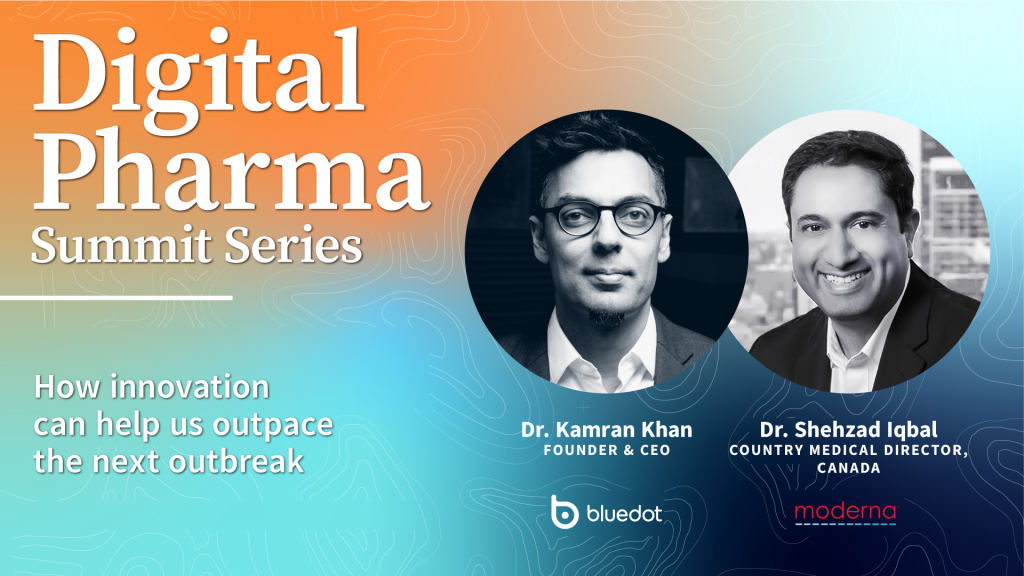 Time is our greatest enemy in the fight against pandemics. The longer we take to detect and respond to infectious disease threats, the more disruption and loss of life we face. But we can predict and respond to major disruptions that can profoundly impact humanity by leveraging technology and gaining foresight.
Download the recording to uncover insights from leading experts – BlueDot CEO and founder, Dr. Kamran Khan, and Country Medical Director of Canada, at Moderna, Dr. Shehzad Iqbal. In this second installment of the Digital Pharma Summit, our hosts:
Discuss strategies to better prepare for the next outbreak and move from awareness to action with more agility.
Explore how technology can help compress timelines from early detection, to bringing a vaccine to market, and public health interventions.
Examine the evolving global disease landscape including population shifts, changing exposure risks, trends, and how these will impact our future.
Innovation plays a crucial role in our fight against pandemics. The COVID-19 pandemic has shown us that when we innovate and collaborate, we can develop solutions that can help us outpace the next outbreak. By embracing innovation and investing in healthcare technology, we can build a more resilient healthcare system that can effectively respond to future pandemics. We welcome you to download the recording and learn from this important discussion!