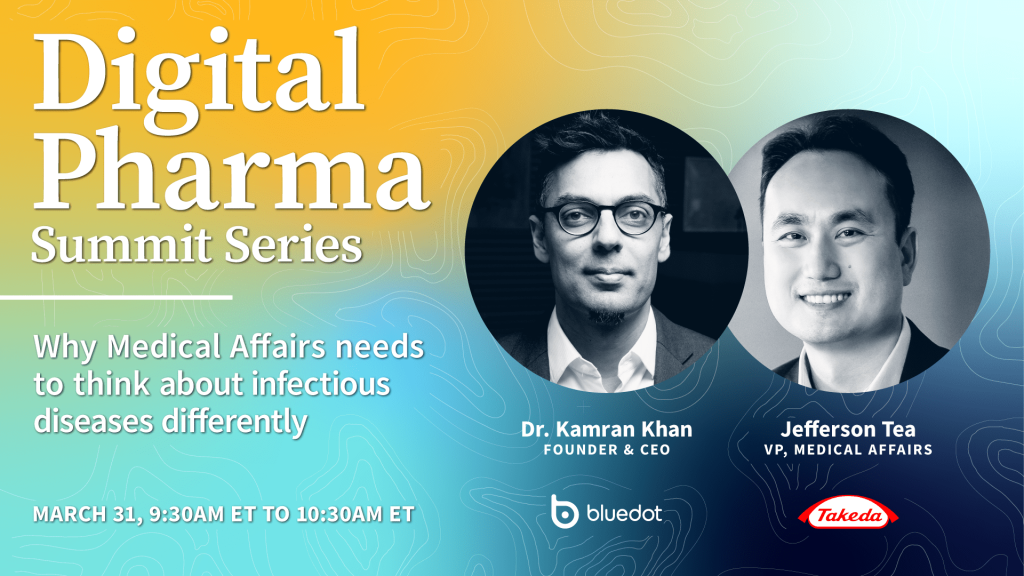 The global problem of infectious diseases is increasing in frequency, scale, and impact. The world needs to evolve and adapt to this new reality. The antidote is timely intelligence. But generating this intelligence isn't easy – it requires a highly specialized set of skills and a diverse array of global data and analytics – and very few entities are equipped to do it.
Download the first-ever Digital Pharma Summit recording and hear from Dr. Kamran Khan, BlueDot Founder and CEO, and Jefferson Tea, VP of Medical Affairs at Takeda, as they discuss:
The recent surge in technological advancements, particularly in artificial intelligence, and how it has been used in the fight against infectious diseases, particularly to help calculate the true burden of diseases.
The role of Medical Affairs in furthering pharma's mission to ensure treatments are getting to the people who need it, when they need it.
The biggest challenges to building HCP trust, and how to best overcome them.
Disease intelligence is the missing link to drive effective response and ensure your treatments and therapeutics are getting to the people that need it when they need it. With data-driven insights, you can pinpoint unmet medical needs in an instant and improve your agility to provide valuable information to the HCP community. Watch the discussion today!