Enjoy a ground-breaking webinar where we delved deep into the dynamic landscape of mosquito-borne diseases, and explored the latest trends and impacts on a global scale.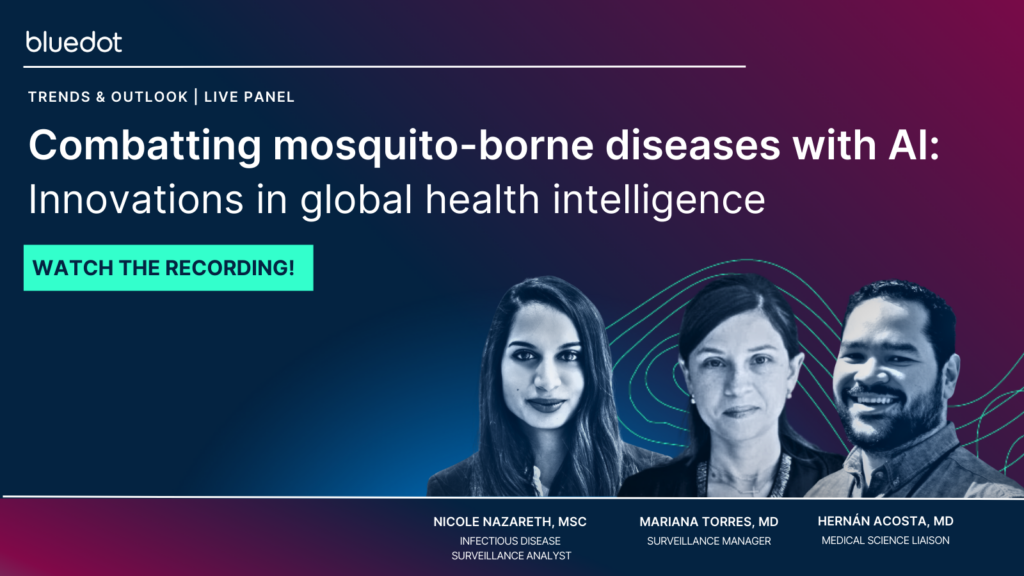 Our expert panel unveiled the abnormal activities observed in mosquito-borne diseases, shedding light on emerging pathogens and unprecedented outbreaks of dengue, malaria, and chikungunya infiltrating urban and rural areas, and the expansion of vector territories. We unravelled the contributing factors to disease resurgence, from climate change to immunologically naïve populations, to provide a better understanding of the most pressing challenges faced.
In the interactive session, we:
Navigated through real-life examples, showcasing how our early warning system identifies high-risk areas and unusual activity, emphasizing the importance of timeliness in awareness and risk assessment.
Explored the medium and long-term outlooks using our innovative Vector Suitability Score (VSS) model, estimating vector geographical expansion over the next 5-10 years.
Examined the obstacles faced when unusual dengue, malaria, and chikungunya activity is present, understood emerging pathogens, and uncovered the role of AI in gaining near-real-time awareness and foresight in identifying populations experiencing vulnerabilities
If you missed this opportunity to be part of an engaging discussion with our expert surveillance and clinical teams you can access the recording now, and gain valuable insights!
Read more on this subject in our article: Climate change likely to turn New York into a breeding ground for dengue-carrying mosquitos