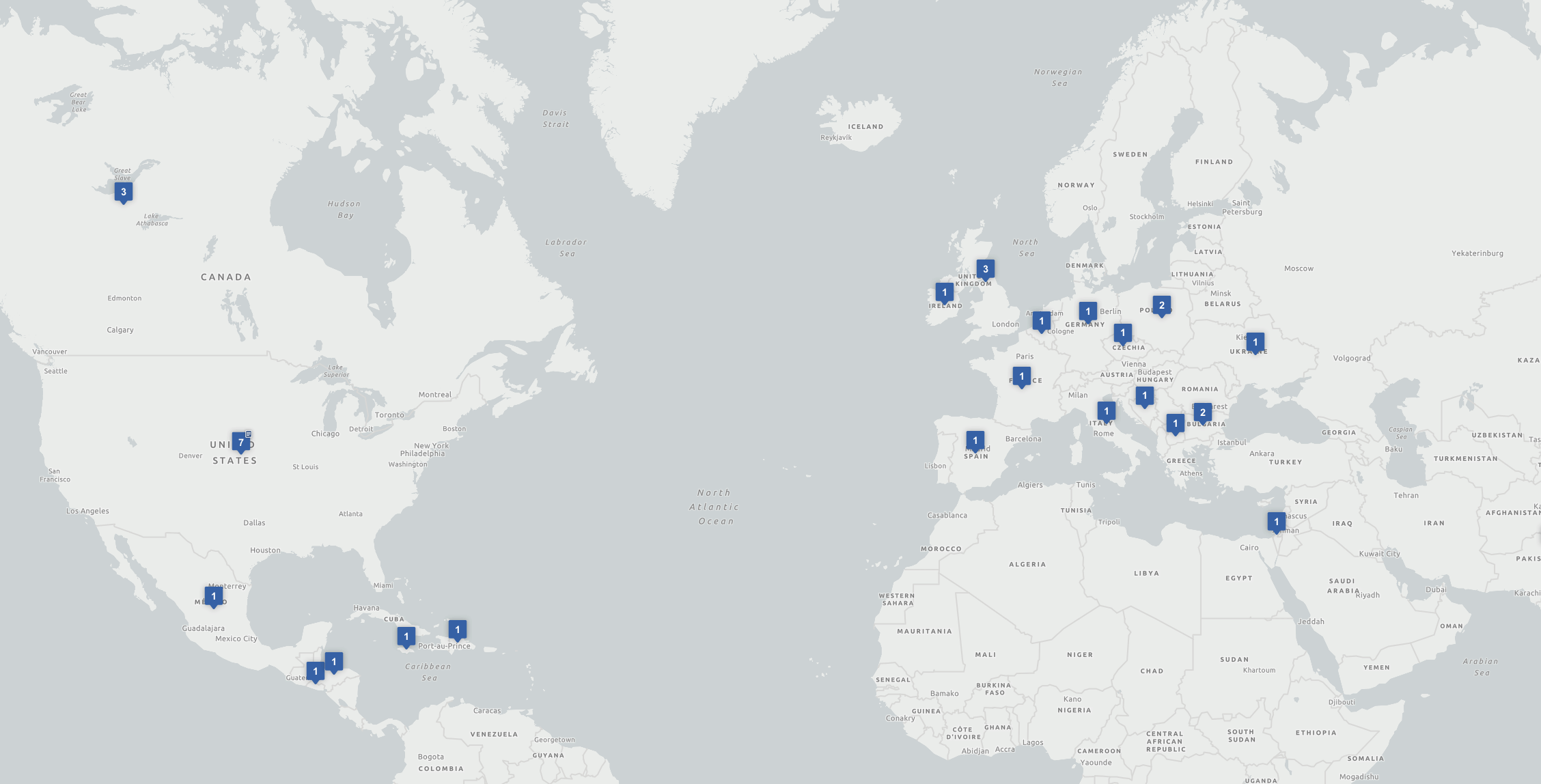 The Ultimate Disease Surveillance Customization: BlueDot Insights Introduces Your Custom View of Global Outbreaks
How many ways can you assess an infectious disease outbreak with disease surveillance? ??
In a world where outbreaks can spread swiftly from one end of the globe to the other, situational awareness of outbreaks outside your organization needs to answer a fundamental question: which infectious disease will I see next? 
BlueDot Insights was built to answer this question. With centralized disease surveillance driven by artificial intelligence, billions of anonymized airline itineraries, and models to estimate local mobility, BlueDot Insights is working 24/7 to become more precise in its anticipation of the spread of infectious diseases across our interconnected world.
Part of that precision is rooted in context, beyond where and how fast a disease can spread from its epicentre. Just as a pathogen requires specific environmental conditions to spread and cause an outbreak, your daily environment influences which diseases cause the most concern for you and those you're trying to protect.
The latest release of BlueDot Insights focuses on reducing noise and increasing relevance by recognizing that everyone has specific interests and concerns. You can now customize your BlueDot Insights dashboard and alerts based on:
Your job role ??‍⚕️

Your diseases of concern ?

Your risk of seeing an outbreak ✈️

A wider world of infectious diseases ?
Context #1: Your Job Role ??‍⚕️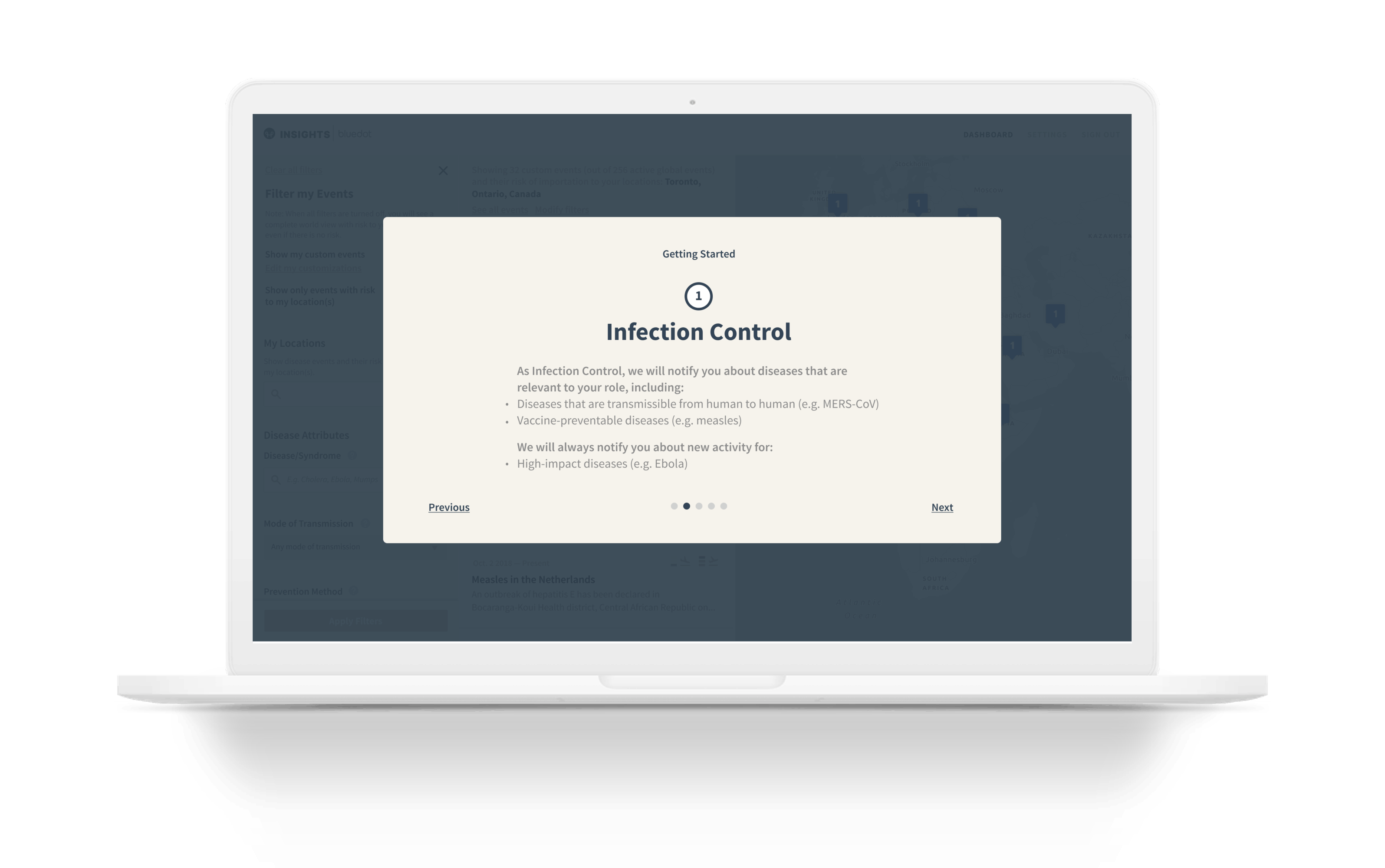 When you sign up for BlueDot Insights, your role will act as a foundation for which disease events you'll see as a default on your global dashboard. 
Recognizing that an infection control practitioner is primarily concerned with human-to-human transmissible diseases within a hospital, whereas a public health analyst conducts broader risk assessments for larger populations, BlueDot Insights is now customizable for multiple perspectives on worldwide disease surveillance and risk. 
Based on your role, your default view of the dashboard and personal alerts will comprise diseases within categories that best represent your concern: 
Human-to-human transmissible diseases (e.g. MERS-CoV) ?

Vaccine-preventable diseases (e.g. measles) ?

High-impact diseases (e.g. Ebola) ?

Zoonotic diseases (e.g. Lassa fever) ?

Vector-borne diseases (e.g. Lyme disease) ?
Context #2: Your Diseases of Concern ?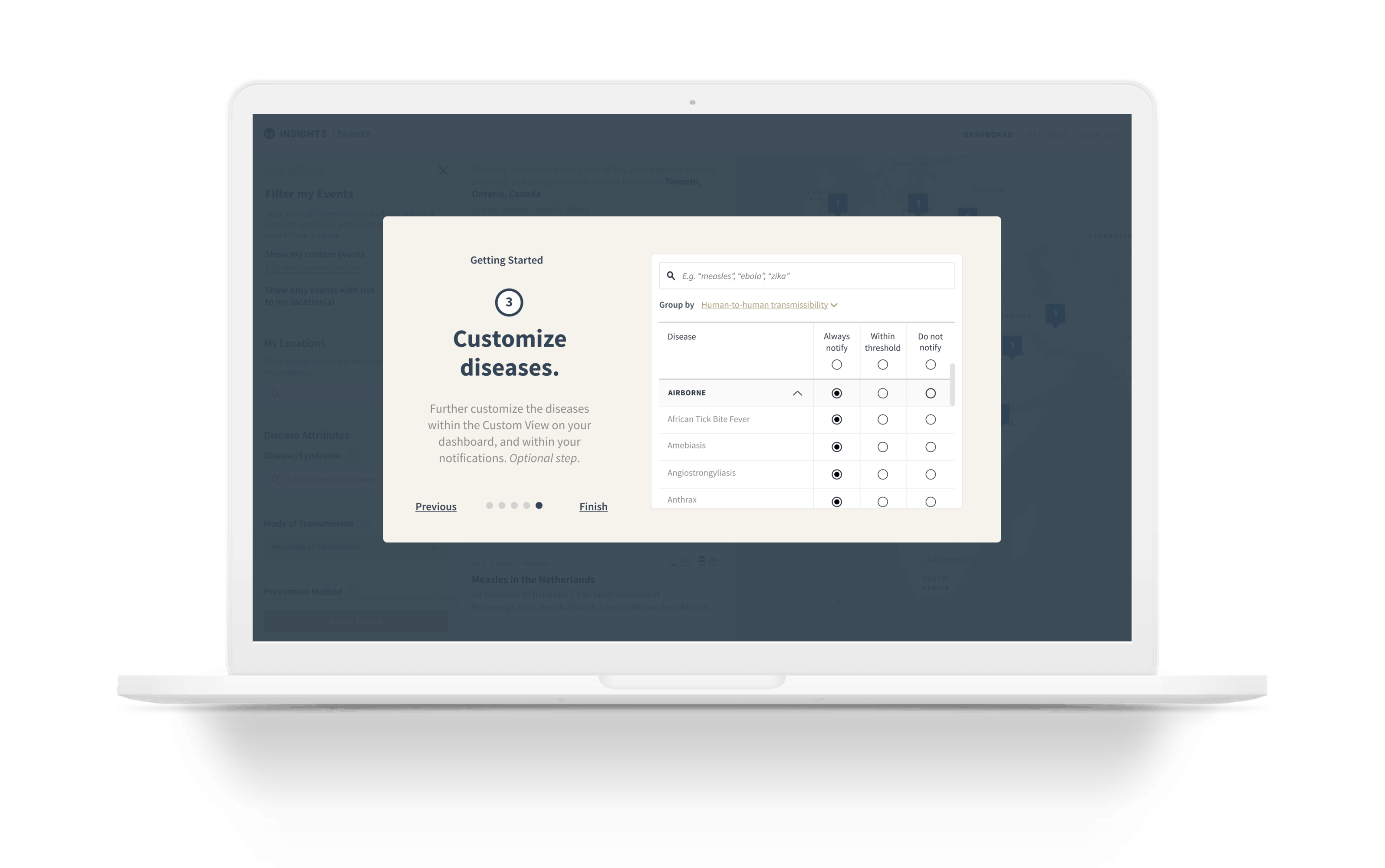 What if you want to follow a disease not included within your job role? You can further customize your dashboard and alerts by selecting specific diseases from our list.
Pro tip: To easily locate diseases, use the search bar or group by mode of transmission. BlueDot Insights tracks nearly 150 diseases, so we've made it easy to sort through the list.
When you click on "Always of interest", you'll see all new disease events regardless of whether or not they are likely to arrive at your doorstep. When you click on "If it's a risk in/to my location(s)", you'll only see events that carry some risk of arriving in your locations. Finally, "Do not notify" gives you the option of filtering out specific diseases that you don't find relevant. 
Keep in mind that disease customization can be undone by clicking on "Reset to [role] presets".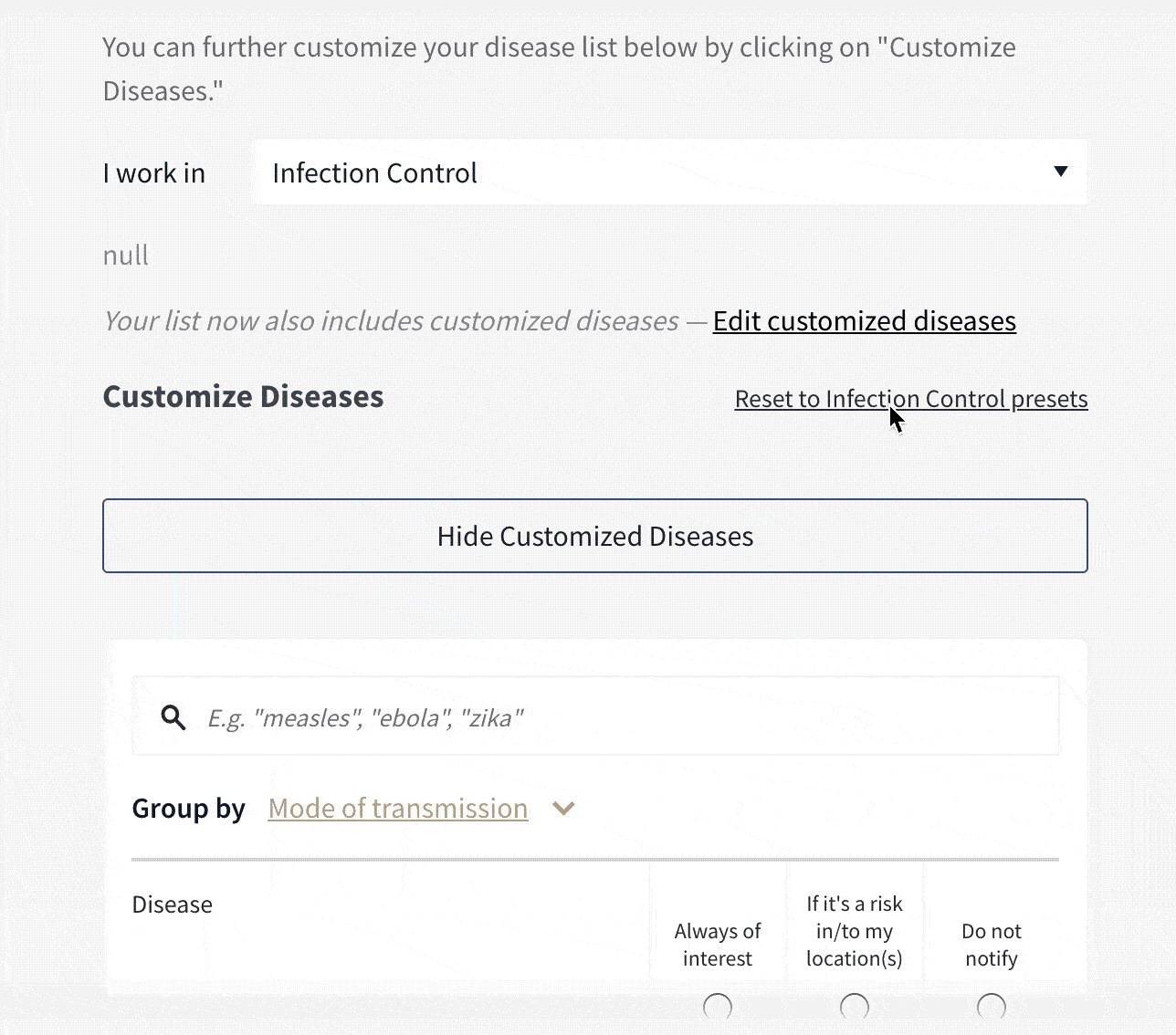 Context #3: Your Risk of Seeing an Outbreak ✈️
After you're satisfied with your custom settings, the default view of your dashboard will reflect your list of diseases.
While BlueDot Insights has always provided quantified risk of importation – your risk of seeing an infectious disease in your default locations – you'll now also see disease events that are not at risk of arriving where you are. (Because sometimes knowing what you don't need to worry about can be almost as important as knowing what you need to prepare for.)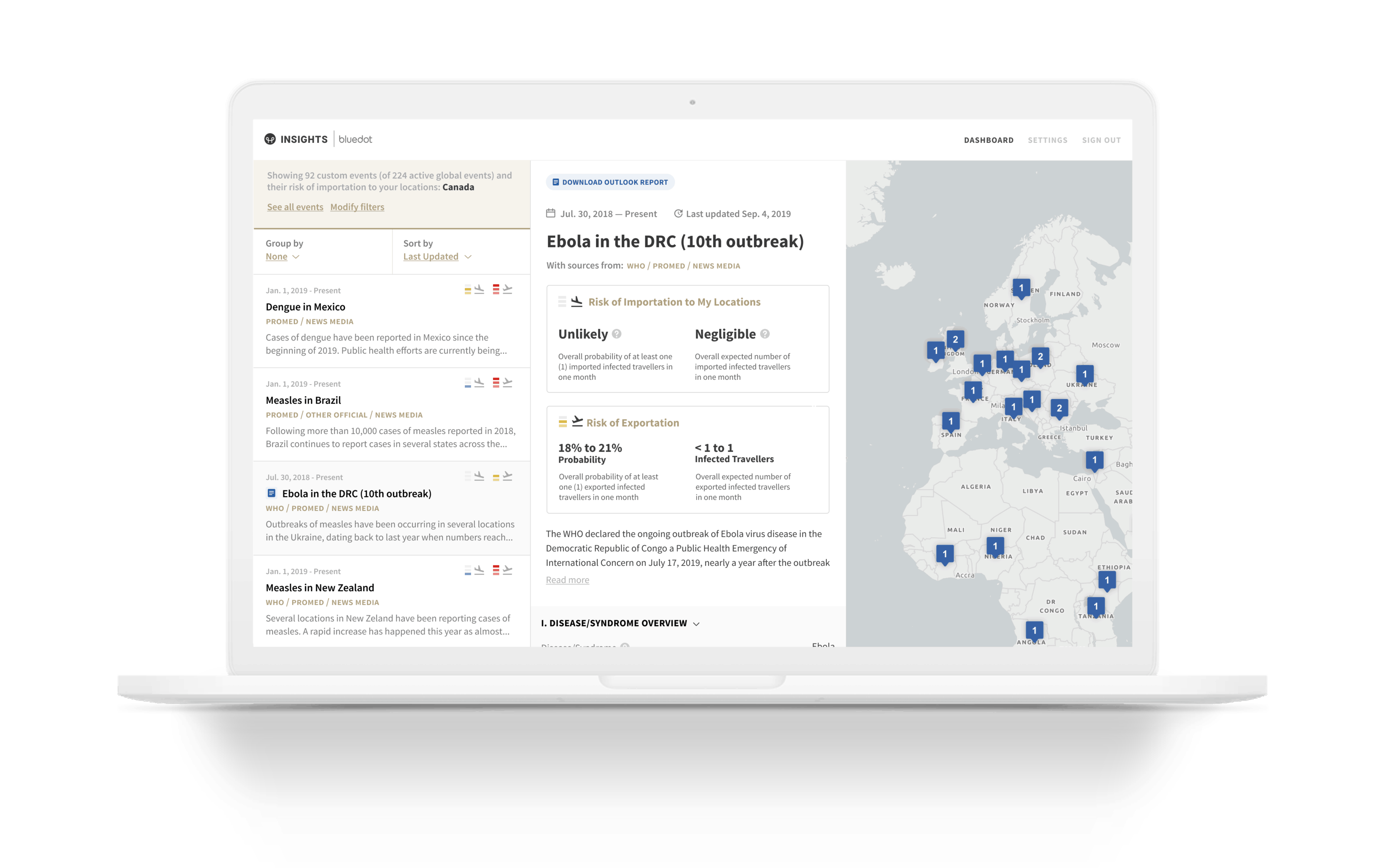 Knowing your risk of importation will allow you to better prioritize communication to your frontline staff and stakeholders.
If you're seeing a high risk of importation for a certain outbreak, you know you'll need to notify people on the frontline who may see a case at triage or other stakeholders within public health.
If you're seeing a moderate risk of importation, you may want to take the time to prepare within your department before communicating risk to others.
Context #4: A Wider World of Infectious Diseases ?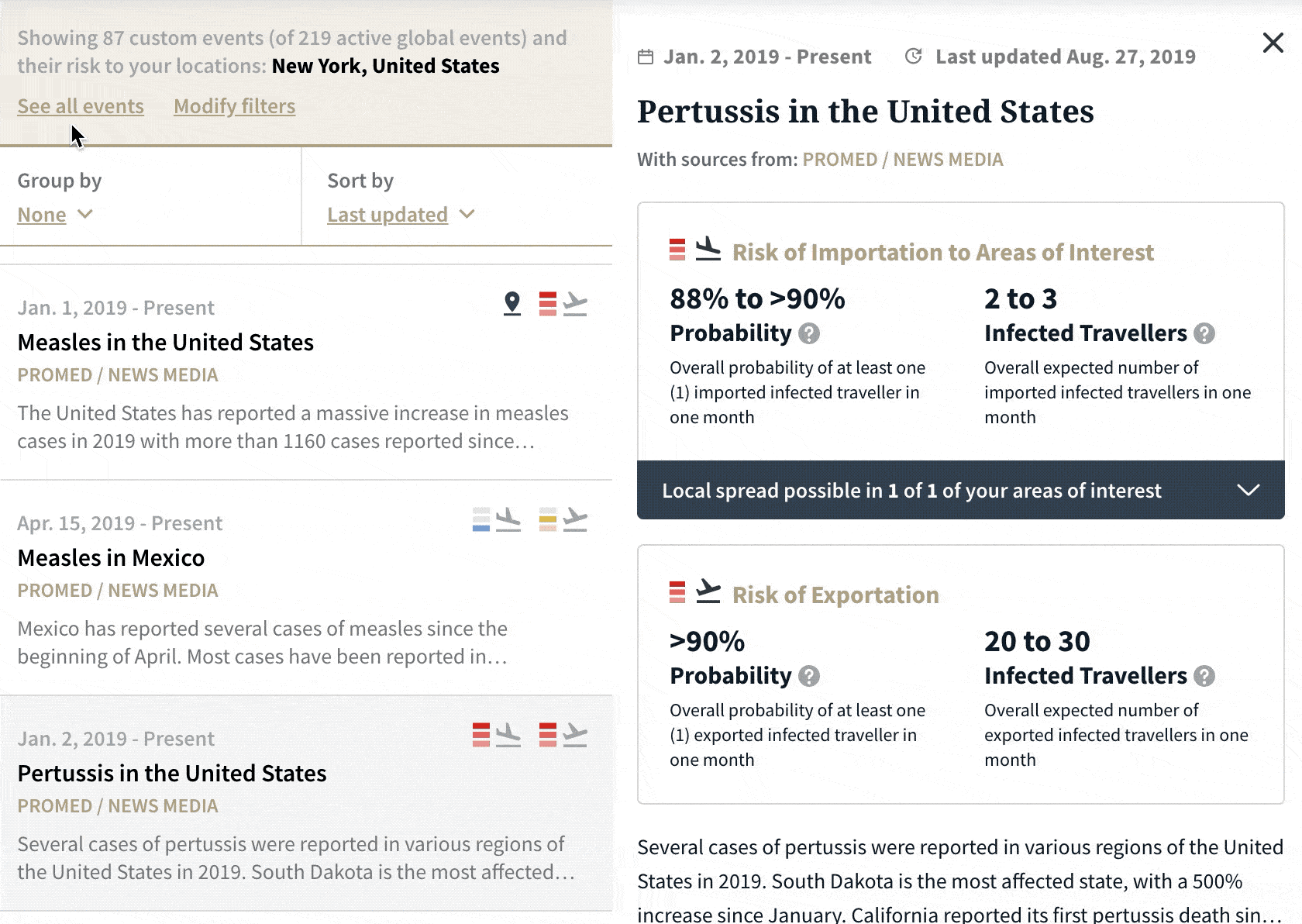 While BlueDot Insights narrows down a wider world of infectious disease risks based on what you've defined as relevant, we also want to make sure you have complete visibility – so we've kept the global view.
To see all disease events happening around the world, click on the toggle between "See all events" and "See my custom events". When you've flipped over to your global view, you'll have access to filters that can help you focus on disease events outside of your custom settings. (Note: you will not have access to filters when you're viewing custom events.)
Click on "Add filters" within the first event panel from the map, and you can filter by any location around the world, including your own and others.
For example, if you enter "New York", you'll see disease events that are either happening or have a risk of importation to New York, based on air travel connectivity to high disease activity elsewhere. Enter multiple location filters or remove default filters entirely to widen your view of infectious disease outbreaks happening around the world.
_______________________________
Have more questions? Schedule a meeting and let us know how we can help.