If you're using BlueDot Insights, you know that you've eliminated much of the manual process of infectious disease surveillance. Congrats!
While cutting down on surveillance time is great (perhaps "sanity saving" is more accurate?), BlueDot Insights can also take a world full of infectious disease outbreaks and narrow that view down to only what you need to know. If you want near real-time infectious disease alerts based on your location, you've found it.
We want to make sure you're reaping the full benefits BlueDot Insights, so we put together these five tips to make sure you're getting the most out of the dashboard.
1. Cut through the worldwide noise – review your custom settings.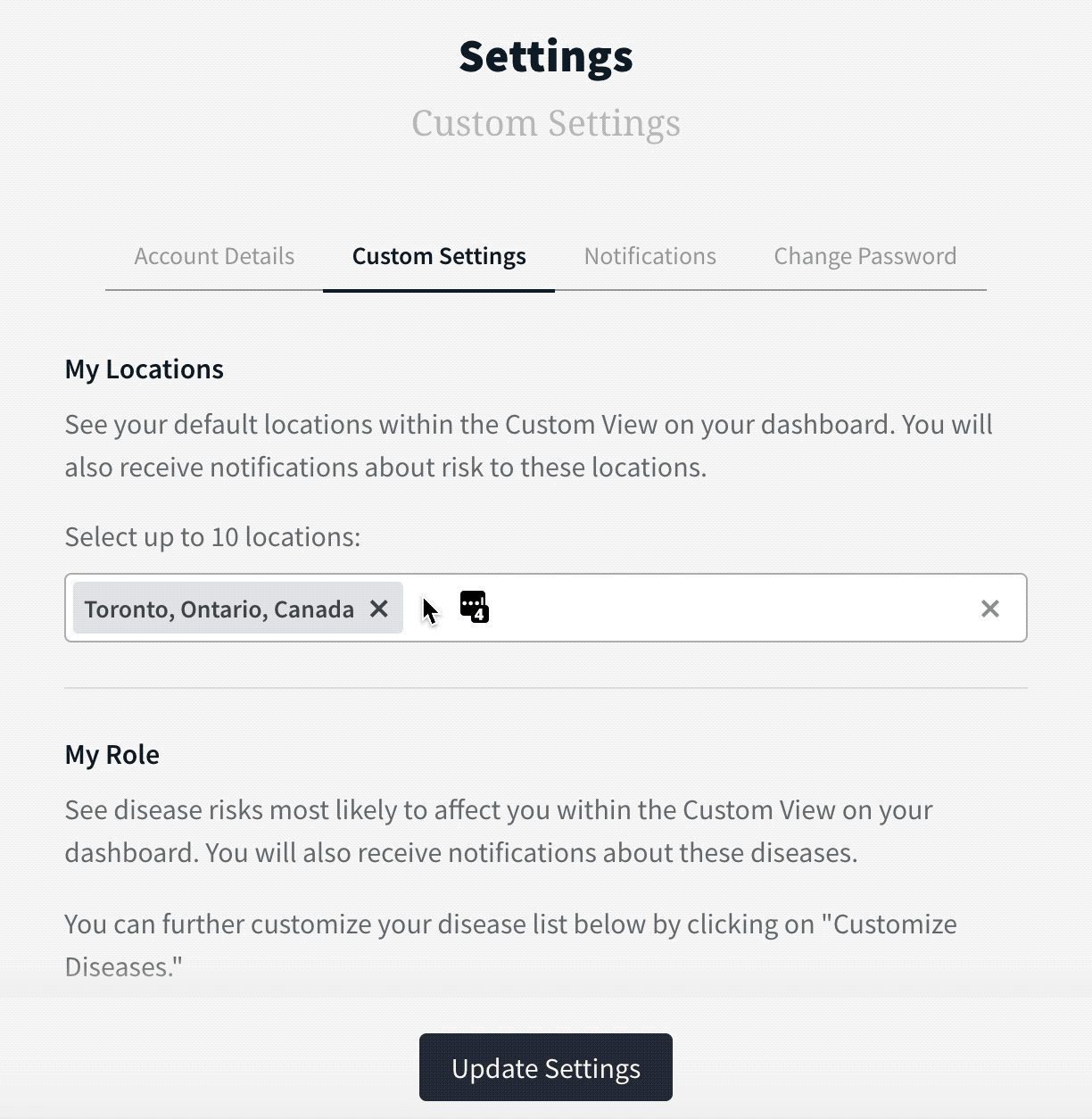 The unfiltered disease map is great – knowing about outbreaks all over the world will make you better informed and more prepared for what might be coming your way.
But you may want to focus on diseases that could show up in your own backyard. BlueDot Insights tracks 100-200 outbreaks around the world, and you'll need to narrow events down to what's most relevant for you. For this, we've given you control over your locations of interest in your Settings.
Go to Settings > Custom Settings > My Locations. Here you can have up to 10 city, province or state, and country locations you're interested in monitoring.
Once you've updated your preferences and go back to the dashboard, you'll only see disease events on the map and in your feed that are relevant for those locations.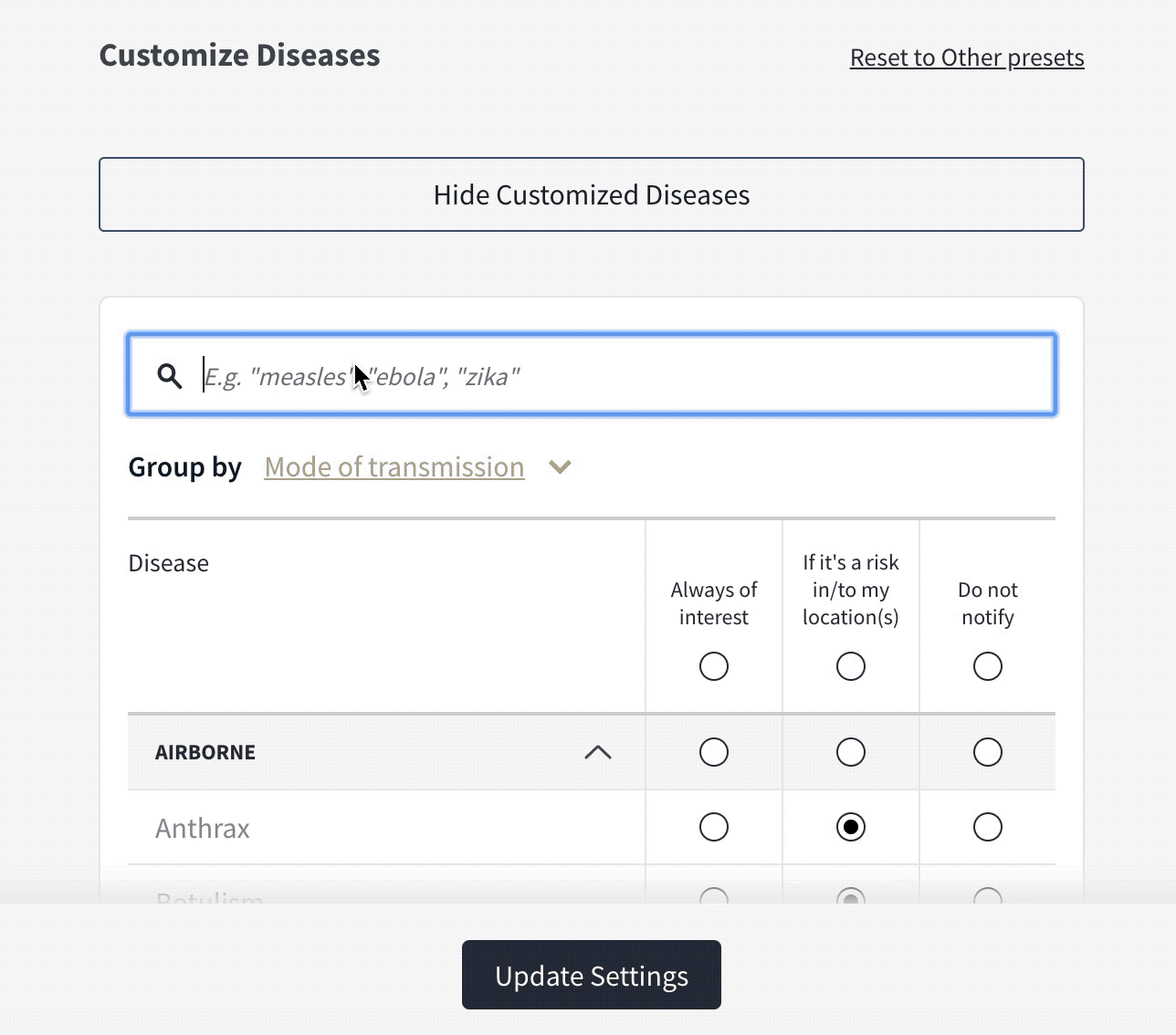 Also, when you sign up for BlueDot Insights, your job role will act as a foundation for which disease events you'll see as a default on your global dashboard.
But what if you want to follow a disease not included within your job role? You can further customize your dashboard and alerts by selecting specific diseases from our list (see above).
2. See outside your custom settings by modifying filters within the global view.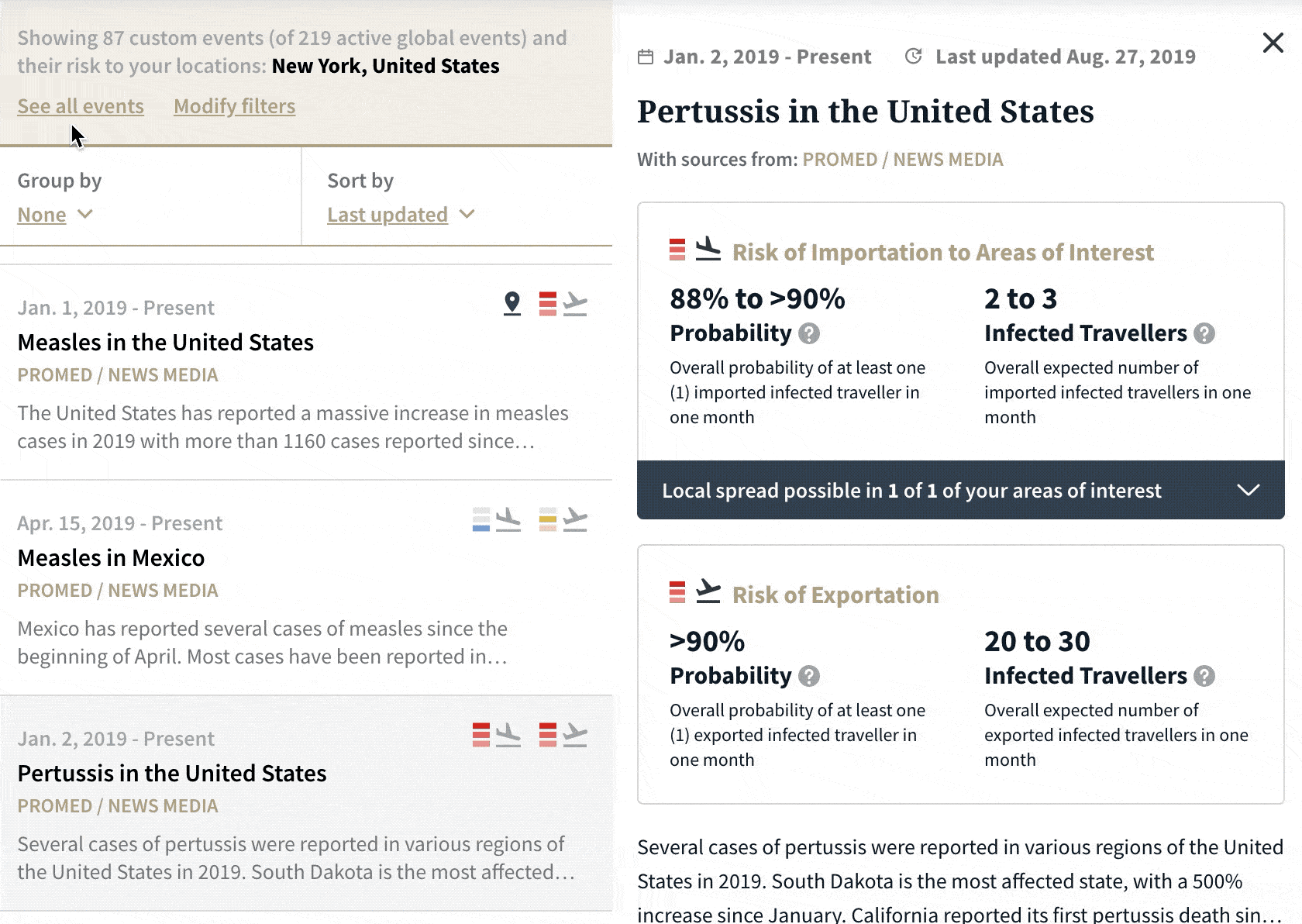 While it's great to see what's happening in your locations of interest when you log in to the dashboard, you may want to modify your view to see what's happening elsewhere as well. For this, you'll want to change your location filters temporarily.
Keep in mind that you will not have access to filters when you're viewing custom events – you'll have to flip back to your global view by clicking on "See all events".
Click on "Add filters" within the first event panel from the map, and you can filter by any location around the world, including your own and others. (FYI, our location filters show you both "outbreaks that are connected to that location", and "outbreaks happening within that location.")
For example, if you enter "Toronto", you'll see disease events that are either happening or have a high risk of importation to Toronto, based on air travel connectivity to high disease activity elsewhere. Enter multiple location filters or remove default filters entirely to widen your view of infectious disease outbreaks happening around the world.
3. Use risk of importation to prioritize communication with stakeholders.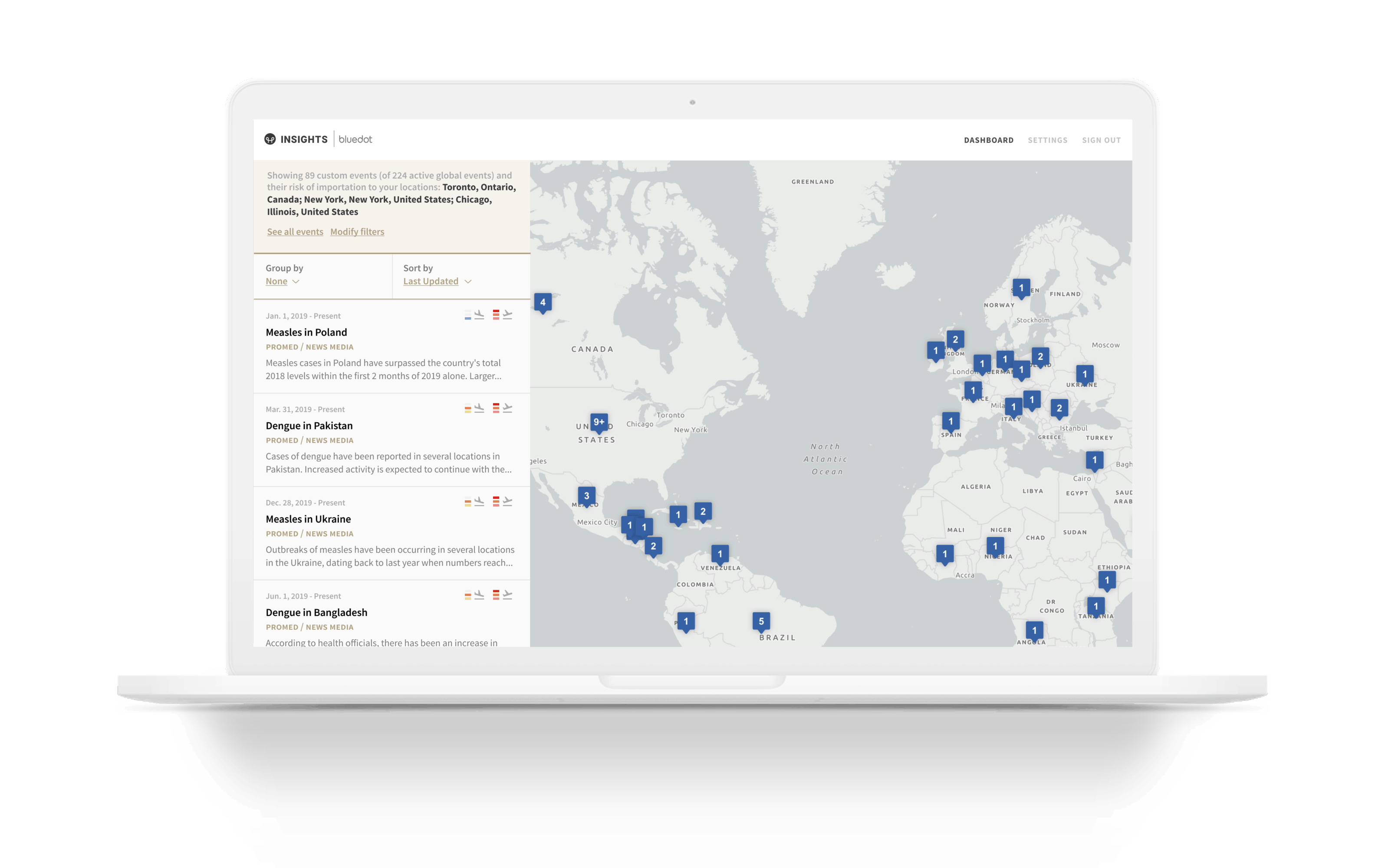 A location's risk of importation is its share of worldwide exportation risk.
Specifically, importation risk magnitude is the anticipated number of cases arriving at a destination over the course of a month, while risk likelihood is the overall probability that at least one infected traveller will arrive in that location in a given month.
Knowing your risk of importation will allow you to better prioritize communication to your frontline staff and stakeholders.
If you're seeing a high risk of importation for a certain outbreak, you know you'll need to notify people on the frontline who may see a case at triage or other stakeholders within public health.
If you're seeing a moderate risk of importation, you may want to take the time to prepare within your department before communicating risk to others.
4. Know when to act based on your local outbreak potential.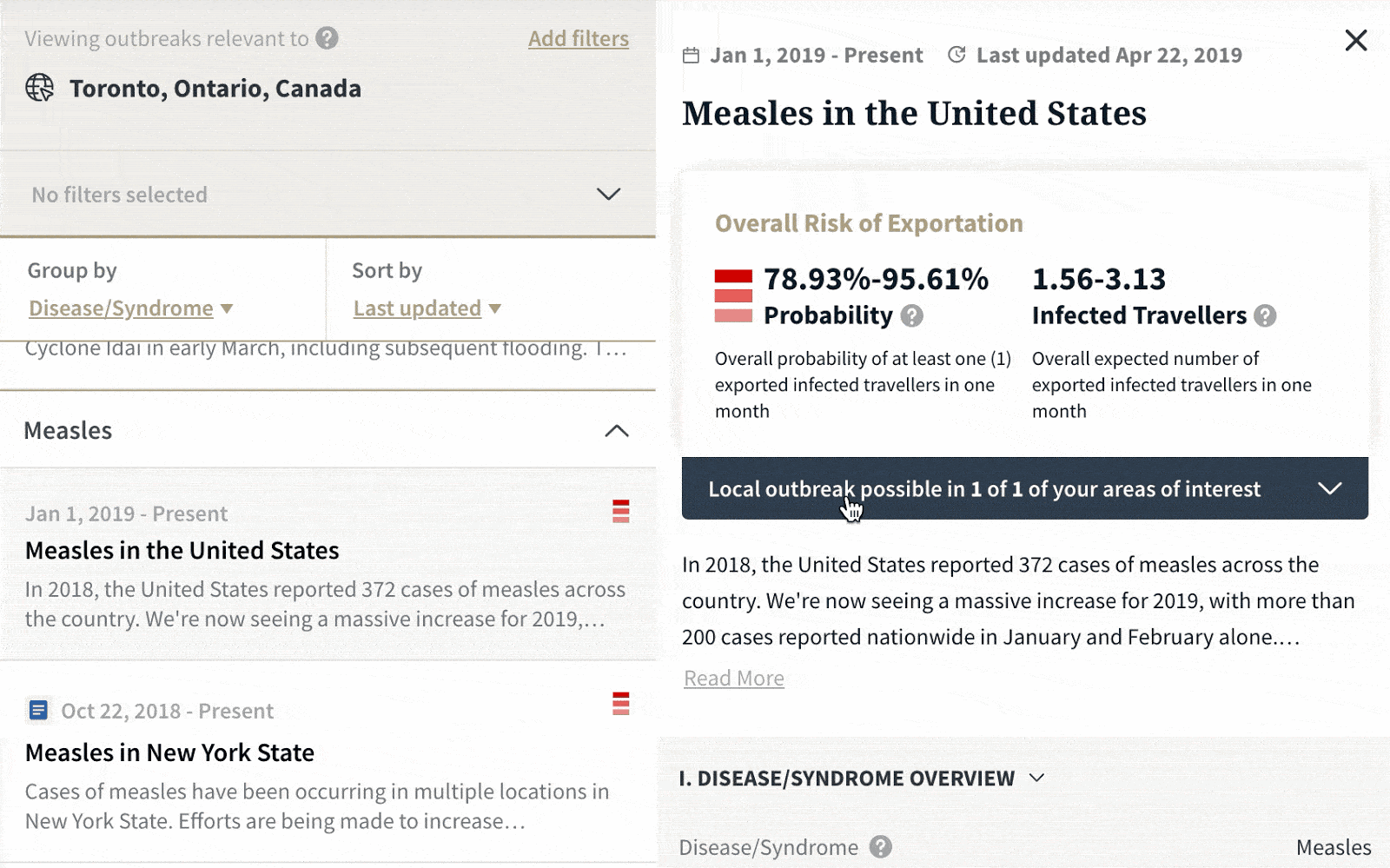 If you're seeing a disease as having local outbreak potential for your location, you know it's time to prepare the frontline for the risk.
Local outbreak potential is assessed using our understanding of how diseases are transmitted and whether the environmental factors in your location are favourable to transmit that pathogen.
For example, dengue needs the presence of the Aedes aegypti or Aedes albopictus mosquitoes to spread. If the location doesn't support these mosquito populations, the risk of an outbreak remains negligible even when the risk of importation is high.
So while this pathogen may present a travel health concern, it may pose no practical infection control or public health concern.
Within each disease panel for your location, you're able to see the outbreak potential bar for each event that's relevant for that location.
Think of local outbreak potential as a potential consequence to risk of importation – not only might disease X arrive at your location, but conditions may also be favourable for that disease to spread within that location.
5. Stay sharp with up-to-date knowledge of infectious diseases.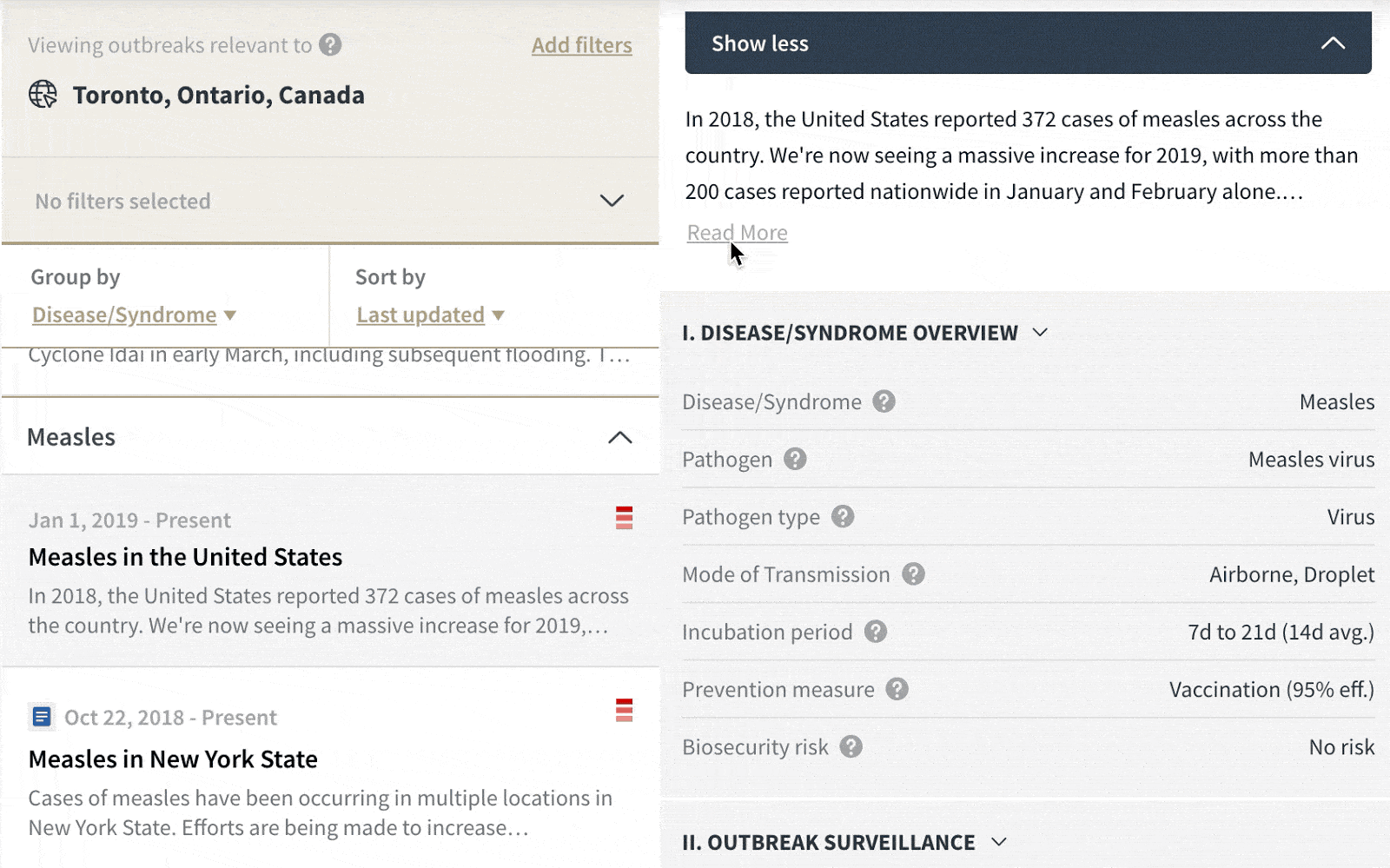 When it comes to infectious diseases, there's a lot to keep up with – even for experts! That's why we've included a ton of great information on each disease – so that you're learning while using BlueDot Insights.
Within an event panel, if you click on "Read More", you can learn about the context of a disease event, why the event is important, how you might know whether someone has the disease, and how you can protect yourself against it.
If you scroll down even further, you'll be able to see crucial disease information like type of pathogen, symptoms, protective measures, modes of transmission, and incubation period. This is so that you can make informed decisions when you're preparing for or responding to infectious disease threats.
While these are some of the highlights of the dashboard, keep in mind that we also send you alerts that are customized to your location.
Once your location is set within BlueDot Insights, you'll start receiving email alerts that let you know when a new disease event been populated that's a threat to your areas of interest.
Have more questions? Schedule a meeting and let us know how we can help.